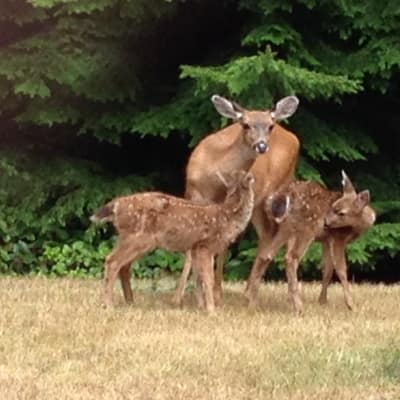 Stewardship
We live surrounded by some of the oldest second generation native growth on the island. Whidbey island like all of the islands in Puget Sound were heavily logged at the turn of the century. There are still some of the old stumps remaining on our property that were cut in the early 1900's. We have on our acerage represented most of the tree species native to western Washington. Because we are adjacent to a significant wildlife corridor of approximately 600 acres which is in combination private forest, Putney Woods trail system and the Saratoga Woods Preserve we feel a responsibility to preserve the habitat quality of our property. We have adopted certain GREEN business and living practices to help us in that endeavor. We allow our guests to participate to the level they feel comfortable as well to lesson the travel carbon footprint of their visit here. We are Inspected & Certified for our "GREEN" practices through the Washington State Bed and Breakfast Guild .
Our practices are listed below and we assess operations constantly to improve our commitment.
We use as little as possible pesticide in the maintenance of our outdoor areas.
Native landscaping ... with low flow and drip irrigation system.
Energy efficient lighting (CFL or LED) installed in at least 50% of our lighting.
Dimmer switches used where appropriate.
We offer a towel reuse program to save on water and detergent use.
Low flush toilets and low volume shower heads are used in all of our rooms.
We have a recycle station for guest use under the library counter: glass, plastic & paper.
Reusable food and beverage items are used whenever possible.
Refillable containers as opposed to single use containers are used when ever possible.
Dispensers for shampoo, shower gels in room or packaging using recycled materials.
Natural fabrics, sustainably produced long staple GreenEarth towels are used that 20 - 30% less energy to dry.
Use cloth napkins when ever possible.
Non toxic, biodegradable, petroleum free cleaning products used whenever possible.
Low VOC paints are used when painting the interior of the Inn.
Paper products, napkins, toilet paper, paper towels, paper plates made with recycled content.Inn monitors delivery of newspapers, magazines etc. to reduce waste ...and we recycle those delivered.
Our property's grounds and facilities are smoke free.
Inn's practice is to use local vendors whenever possible.
Buy bulk to save on packaging waste.
Property has a preventive maintenance program on HAVC and appliances.\
Inns laundry, water heaters, refrigerators and freezer are energy star rated.
Inn's heat pump is an efficient form of heating and cooling.
Inn has a heat recovering system to help heat its main hot water supply.
We have all double pane windows.
Inn donates items for "reuse"; linens, towels and furniture.
Inn participates in SNUB - Say no to unnecessary bags.
Innkeepers purchased as existing Inn saving the resources avoiding new construction.