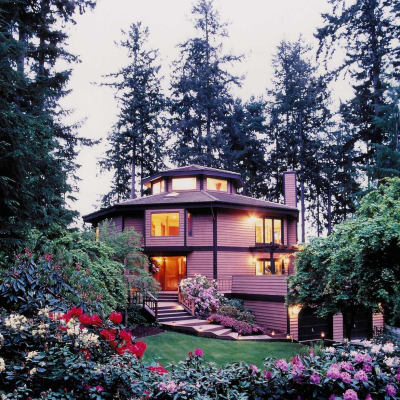 Your Stay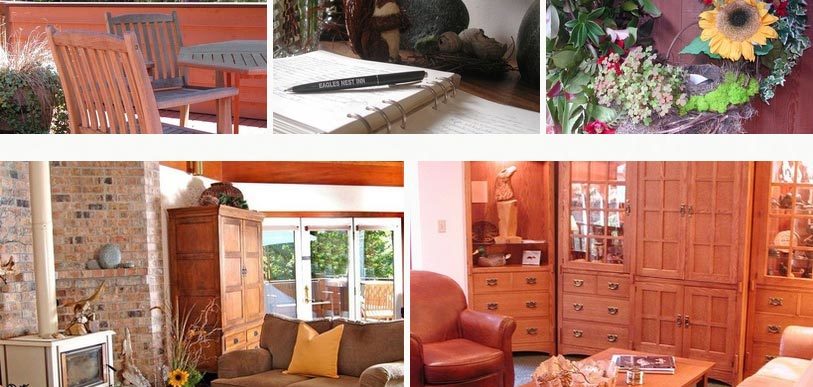 The first order of relaxation is to slip into Island time.The architecture of the Inn beckons you to slow down and experience Nature. Outside every window is a different view of the Island and forest giving you a seasonal sense of the moods of Nature here on the Island.
We have designed each of our guest rooms with your comfort in mind and each has its own decorative personality its own view on Nature. So choose with your personal comfort and relaxation in mind. Each room has luxurious amenities, wonderful linens and all cotton towels, comfortable chairs with foot-up comfort and good reading lights and much more. See the amenities section accompanying the room descriptions as they are individualized to the room.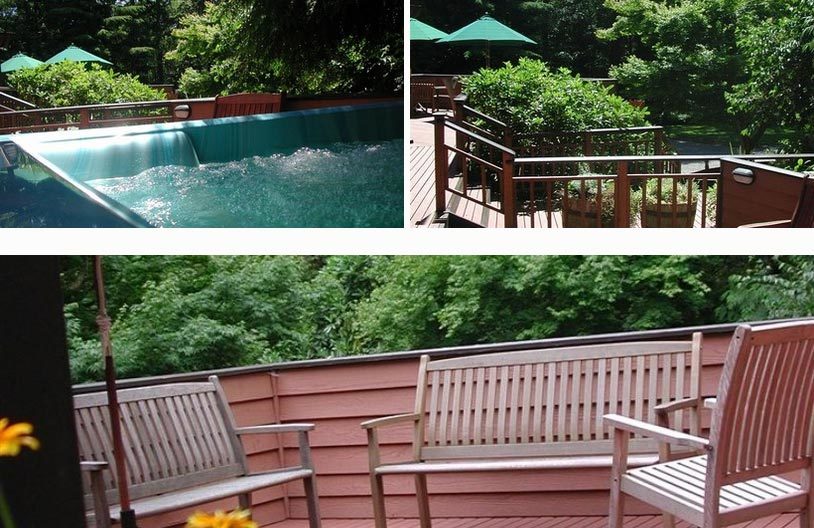 In our entry level great room is a stunning combination of nature and art. A cathedral 21 ft scenic wall painting of Saratoga Passage and Camano Island, flanking a twenty-foot brick hearth are tall windows that mirror the firs at the forest's edge. The combination of art and real life seem to make the walls disappear and bring the outside in. Imagine a winter's night in the great room with a fire blazing and gazing into evening sunset over the Passage.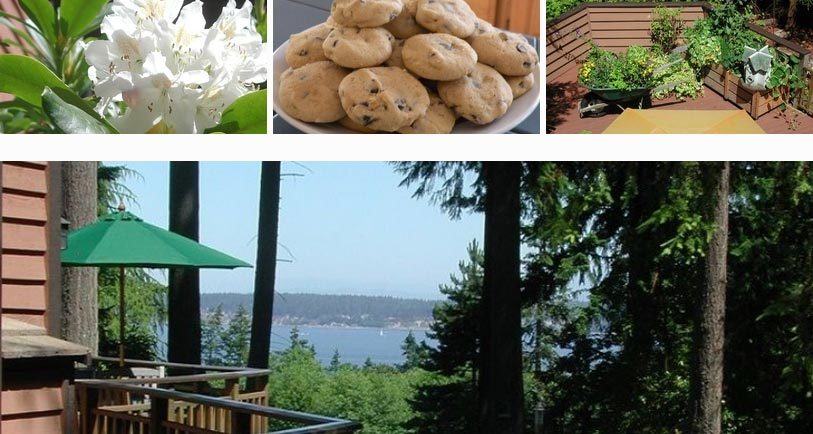 Our second-level library lounge is a favorite guest spot. Spacious and with a large window seat for reading or contemplating. The window seat provides place to view the forest and the start of the Inn's morning trail to the lower pasture. Complementary WIFI is available throughout the inn's guest rooms and common areas so you may catch up on e-mail any where you choose. A DVD library is available to guests. The hospitality counter located in the library is always well stocked with complimentary coffee, herbal teas, cider, and hot chocolate. Our cookie jar can be found there stocked with freshly baked chocolate chip cookies. We have served 227,880 guest cookies so far.
Breakfast at the Inn is a favorite part of the day. Serving fresh locally sourced foods, in a social atmosphere with plenty of local coffee. See our Breakfast section for more detail on Breakfast at the Inn.
To see photos of the property and surrounding area visit our photo gallery.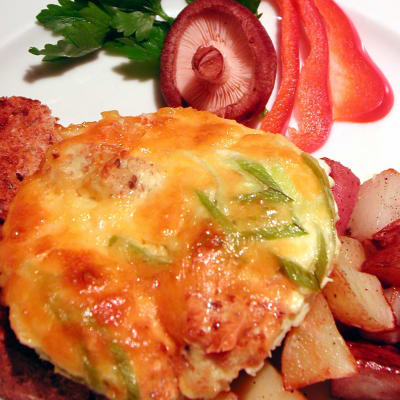 Breakfast
Our complimentary full Northwest breakfast is served at 9:00 a.m. in our kitchen dining room, or weather permitting in the summer, open air on our decks overlooking Saratoga Passage and Mt. Baker. Delightfully different farm fresh menus start each of your days. Breakfasts are social and are served "common-table". Our Breakfasts that feature Local, Seasonal and Organic produce, dairy, eggs, food and beverages carefully prepared and served with Northwest flair. Fair-Trade Organic Coffee, slow roasted locally and custom blended for our table by Mukilteo Coffee Company will entice you into a perfect Whidbey Island day of exploration.
Menu Style
Our menus have a focus on the fresh, locally grown and natural, light on salt, sugar and fat. Seasonal fruits, fresh fruit sorbet or fruit slush to start, followed by a hot entree such as:
Alder-smoked Salmon Omelet with Dilled Toast
Carrot Ginger Souffle with Toast rounds and Seasoned Tomato
·Portabello Mushroom Omelet with Thyme and Brie Cheese
Puffed Pear pancake with Caramel Sauce and Sage Sausage
·Blackberry Stuffed French Toast with Maple Syrup
Asparagus Baked Egg Custard with Lemon Hollandaise and pan Baby Red Potato
Baked Egg with Leek Fritatta with pan Fingerling Potato
· . . . seasonally in place of fruit we may also include specialty muffins or our famous Wild Berry Coffee Cake,
· and of course all the Island coffee you can hold. Just like at home!
"Loved the birds . . . the trail nearby . . . relaxing atmosphere and fantastic breakfasts."
- Charlie & Ginny H, Spokane, WA
Note: Special medical dietary needs accommodated with advance notice.
Popular Diet Styles: Atkins, South Beach, High Protein, Vegan accommodated with a $10 per person per day additional charge. Advance notice required.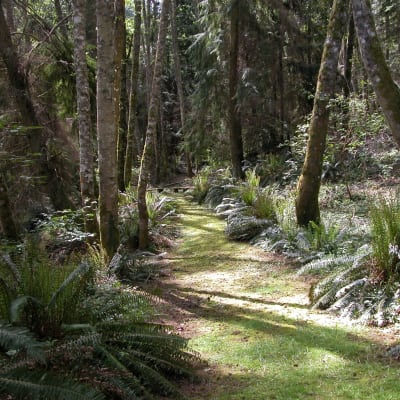 Grounds & Trails
Our property is a registered backyard wildlife sanctuary and is located adjacent the 600 acre Metcalf Trust, Putney woods and Saratoga Woods public forest land and woodland trails. Most of the native trees and shrubs found in the Pacific Northwest coastal region can be found on our grounds and we are happy to point out some of the varieties to those from other areas of the country. Early morning walks down the moss trail will present you with the sights and sounds of the forest, and may give sightings of blacktail deer, a variety of birds, native cotton-tail bunnies and squirrels. Skirting the edge of the wetland bog and across the open pasture you will encounter century old stumps and nurse trees that remain on the property for wildlife habitat. Note: Look for the spring board notches on the old stumps as these trees where cut a century ago when the lumber industry cut trees by hand. Our property is representative of some of the oldest second generation growth remaining on the island. Today's forest industry is cutting third generation growth for the lumber needs of today's industry.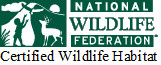 Since we are a nesting area for many bird species bring your binoculars to watch the tree tops and listen to the songs of the different birds. Song is the language of birds and they have different songs to communicate. See if you can hear the "chickadee..dee..dee", when you hear this repeated in rapid repetition at a high pitch the Chickadee is warning the other birds and critters of your approach into the forest.
In the spring the grounds of the Inn from April to July are nesting areas for Rufous Hummingbird. The aerial shows of this Hummingbird are some of the most impressive.
You will delight in the quick movements and verbal exclamations of this little orange-red Hummingbird.
Rhododendrons, Douglas Firs, Western red Cedar, native shrubs, and wild berries create a friendly and supportive environment for local forest birds and creatures. Our bird feeding stations are always alive with feathered activity. Many of our guests ask us about our different strategies for feeding different song bird varieties. We are home to countless birds, native red fir squirrels, chipmunks, quail and rabbit. Blacktail deer can often be seen in the lower pasture and eagles soaring in the sky or perched in our tall firs. Our habitat and the adjacent woods have some of the oldest second generation forest remaing on the Island and our grounds have been registered withNational Wildlife Federation and WA. State Fish and Wildlife as a backyard wildlife sanctuary since 1996. Eagles Nest Inn Bed and Breakfast place devoted to nature and the Inn is in the center of it all.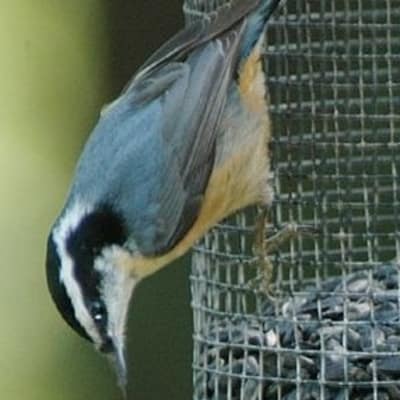 Birding & Wildlife

Spring migration, begins for some birds in February and is in full swing by the beginning of April. The first and last light song symphony of birds is an angelic chorus performed by all birds. From robins to finches the sweet songs greet and end each day with the sun.
Here on the grounds of the Eagles Nest Inn many species can be seen check out the on site bird list for some of the local species seen regularly at various times of the year. The feeding stations and the birdbath are two areas to keep an eye out for the latest goings on. There is a constant stream of entertainment from a wide variety of folks. Just look at some of the regulars.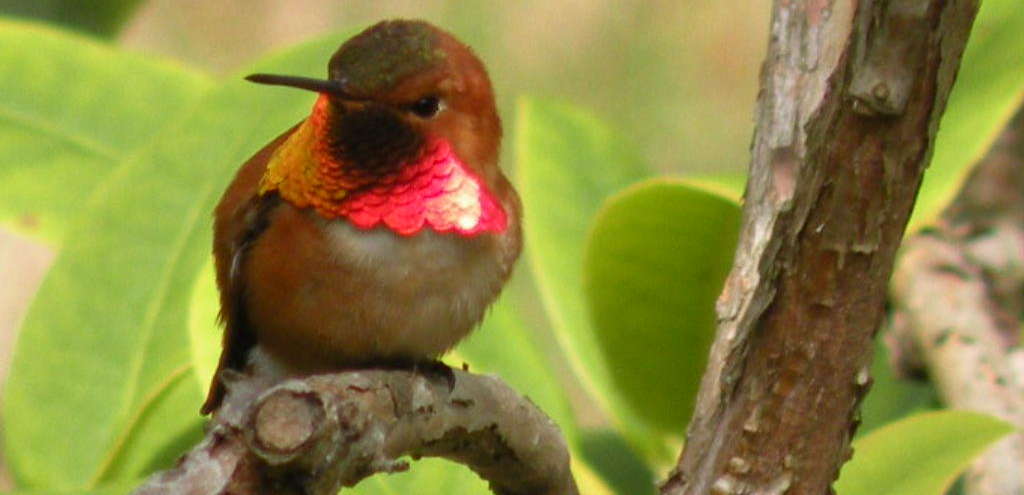 In March and April the rufous hummingbirds return to nest on the Island from their winter vacation grounds in Latin America. These beautiful and extraordinary little birds will liven any environment they call home. The flight skills and operations of the brightly orange- red males are amazing. They delight in large Ferris wheel like flight patterns and are very verbal while doing so. They usually are in the area only a few months and by mid July start the long journey South again.
Whidbey Island's sandy beaches, protected coves and wetlands are rest stops for thousands of shorebirds in the Spring and Fall. This stunning drama can be seen at Crocket Lake. Flocks of swirling sand pipers or dunlin can be viewed attemping to evade menacing peregrin falcon or merlin. The highest volume of birds in the Fall migration are in the months of September and October. But often Migration to southern points are often still in November and December.
During the winter months the Island has large numbers of murres, loons and gulls that winter over. Ancient murrelts are regularly seen during November and December.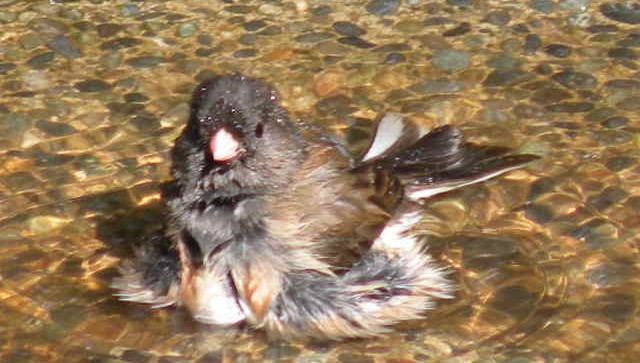 Birding is a four season opportunity. The beautiful thing is that each season offers those who wander Whidbey very special experiences, surprising diversity and tranquil beauty.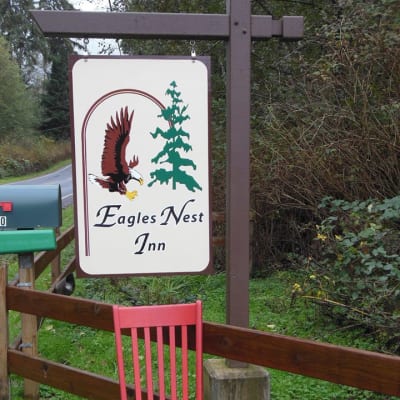 Directions to Eagles Nest Inn
From the South
From I-5, take exit 189 to the Mukilteo/Clinton Ferry.
Take the Washington State Ferry to Clinton on Whidbey Island.
From Clinton, travel north on Hwy 525 for 2.7 miles, and turn right on Langley Road.
From there, it is 3.7 miles to Langley.
Turn Right at the stop sign onto Cascade Ave and go to the stop sign.
Turn left on second Street and go through town.Second Street becomes Saratoga Road.
The Eagles Nest Inn is 1.5 miles from the center Langley on Saratoga Road.
We are located on the left hand side of the road, turn left at our sign.
Our address is 4680 Saratoga Road.
From the North
If you're coming from the north, cross Deception Pass Bridge and follow the highway south for 35 miles to the Langley turnoff (Bayview Road).
It's then 3 miles to Langley. Then turn left at DeBryn (St Huberts church) 1 block to Saratoga Road and turn left.
We are located on the left hand side of the road, our address is 4680 Saratoga Road.